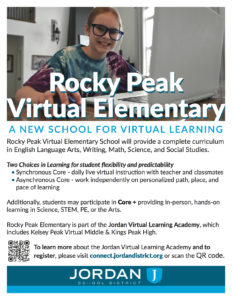 Parents,
Beginning in the Fall of 2021, students in Jordan School District in grades K-12 have the option to enroll in a virtual school.  The current virtual options through Hayden Peak will end at the end of the 2020-21 school year. Pre-registration at Rocky Peak Virtual Elementary School for the 2021-2022 will begin February 1st and continue until Summer 2021. However, because you will be un-enrolling your students from their current boundary elementary school and enrolling them in the Rocky Peak Virtual Elementary School, it is important to complete your registration form as soon as possible. This will allow both schools to make informed decisions about the number of teachers for each school. Final registration will need to be completed by August 2021 as you commit to Rocky Peak Virtual Elementary School for the 2021-2022 school year. 
Pre-registration will be done online this year using the form link below. If there are families in your neighborhood who currently attend charter, home, or private schools but plan to attend Rocky Peak Virtual Elementary next year, please feel free to share this information with them.
Please see the attached flyer introducing Rocky Peak Virtual Elementary.
Rocky Peak Virtual Elementary school information and Pre-Registration Form can be found at connect.jordandistrict.org